FAST AND RELIABLE FULLY MANAGED HYBRID VPS HOSTING
/mo.
Ideal to personal use
Dedicated 16 Core Xeon
4GB Guaranteed RAM
6GB Burstable RAM
100GB Raid-10 Disk Space
2TB Bandwidth
2 Dedicated IPs
1Gbps Port Speed
/mo.
Simple Project at the best price.
Dedicated 16 Core Xeon
6GB Guaranteed RAM
8GB Burstable RAM
200GB Raid-10 Disk Space
4TB Bandwidth
3 Dedicated IPs
1Gbps Port Speed
/mo.
Our best seller Hybrid VPS package.
Dedicated 16 Core Xeon
8GB Guaranteed RAM
10GB Burstable RAM
300GB Raid-10 Disk Space
6TB Bandwidth
4 Dedicated IPs
1Gbps Port Speed
Included in all the Virtual Servers plans
All virtual servers come with a comprehensive set of features and services— one of the industry's best. With these features included at no additional cost, you can accelerate deployment and optimize your total cost of operations.
Full Root Access and Rebooting
Choice of VPS Location
24×7 Pro-Active Monitoring
Gigabit switch uplink
Daily and Weekly backups
Firewall & Intrusion Protection
16-Core Intel Servers
Remotely reboot your VPS
Feature Packed Control Panel
Multiple Linux Distributions
NON-Oversold Servers
Instant VPS Activation
Ability to reinstall VPS and choose different OS
No Bandwidth Overcharges
FREE Moving Assistance
Order Now Your Fully Managed Hybrid VPS Hosting
A
re you looking for a little more resources than our other VPS plans? Have some more resource intensive needs? These plans are perfect for you then! They are just like our Hybrid VPS plans however features much more power and resources.
Continue reading…
On top of that, all the resources in these packages are fully dedicated to you!Works like you have your own machine – powerful, affordable and includes a custom firewall, dedicated mail server and more control over security! VPS hosting is a great fit for businesses expecting rapid growth, heavy website traffic or who run highly interactive, dynamic websites.
Anix Host partitions a high-performance server into multiple virtual servers, each with a reserved amount of CPU and RAM resources.
Collapse.
We Are Affordable
At Anix Host we have always been passionate about offering the best possible service at a price point that is affordable for everyone. We take pride in being able to support small companies during their startup phase and offer them a fully managed solution without breaking the bank.
24×7 Fully Managed Support
We fully manage your VPS. We are always here ready to respond. We take care of anything from troubleshooting to installing general software. We monitor VPS accounts 24/7 and perform automatic updates, firewall configuration, and script installations.
99.9% Uptime Guarantee
We want your VPS to be available all the time. Therefore, the entire infrastructure of our VPS is based on a sophisticated redundancy concept. And since we are convinced of this concept, we guarantee you an uptime over 99.9% on average.
Choose Your VPS Location!
In which of our state-of-the-art data centres will your VPS be hosted? The U.S. or Europe, it's your choice! No matter which one you choose, the price is always the same. You can now choose to have your VPS located in our Los Angeles, CA or Scranton, PA or Maidenhead, UK datacenter!
Fast and Reliable Servers
What's one of the major things that sets us away from most other VPS companies? Our servers! We feel to provide our customers the best service possible, we have to use the best hardware possible. That being said we don't skimp on our servers. Our servers usually consist of high end 8 to 16 core processors, at least 12gb DDR3 1333 memory, and RAID-10 storage. You will notice the difference!
Secure Off-site Backups
Here at Anix Host we offer all VPS accounts R1Soft Continuous Data Protection services. R1Soft provides near-Continuous Backups, capable of providing hundreds of individual recovery points per day, scheduled as frequently as every 5 minutes. This ensures you always have a copy in case a client deletes something important.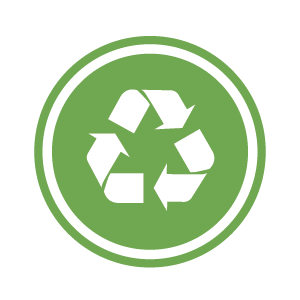 WE ARE GREEN!
One of the main features that sets us apart from other VPS Hosting providers is that we are an eco-friendly company that uses nothing but green energy. Everything from our servers which are built with energy consumption in mind, to the recycling bins in our office, we take "green certified" to a whole new level. So take that extra step and host with a VPS Hosting provider that gives back to our planet, Anix Host!

RAID 10 STORAGE
All of our servers feature RAID-10 storage which consist of 4 hard drives and can keep working without any data loss even if two of the HDDs fail to respond. This is your best protection against hard disk failures and protecting your data. RAID 10 servers significantly increase the read/write speed of data to and from the server by about 30% in comparison to a standard non RAID based server.

PROACTIVE SUPPORT
At Anix Host we strive to deliver comprehensive hosting support services that include continuous provisioning and data center monitoring. Additionally, our staff is available all day and every day to respond to emails, reply to live chat messages, and monitor our ticket system to ensure clients are receiving the technical support they need.

VPS CONTROL PANEL
Your control panel is the core of your VPS Hosting. So when it came down to deciding what Viritualization software to use we had no doubt to use the ever growing and popular SolusVM. The reason we chose this software was because of its ease of use while still incorporating all the advanced features administrators require. To learn more about everything this control panel allows, click here.

INTRUSION PROTECTION & SECURITY
A huge concern is always intrusions, hacks, DDOS attacks and such that can occur to your VPS. A main feature of the control panel used to manage each VPS account is its high levels of security. With 7 different layers of authentication it makes it very difficult for non-authentic requestions to enter your VPS. On top of all this, we can install ServerGuard on your server which adds even more protection to your VPS.

GUARANTEED RESOURCES
Unlike other hosts that may oversell their servers, we have strict SLA and policies in place so its impossible for us to oversell our servers. Once our servers hit 60% capacity we start putting accounts on a new server. This gives room for the current accounts plenty of room for growth. So when we say you will get 1024MB RAM, you will get all of that and nothing less!.
COMPARE US TO OTHERS
| Company | | | | | |
| --- | --- | --- | --- | --- | --- |
| Disk Space | Unlimited | Unlimited | 50 GB | Unlimited | Unlimited |
| Bandwidth | Unlimited | Unlimited | Unlimited | Unlimited | Unlimited |
| Databases | Unlimited | Unlimited | 25 | 10 | 5 |
| Emil Accounts | Unlimited | Unlimited | 5 | Unlimited | 25 |
| Multiple Sitebuilder | | | | | |
| Multiple PHP Version | | | | | |
| Free Migration | | | | | |
| Free Backup | Daily | Weekly | | | |
| Free SEO Tools | | | | | |
| Free cPanel Xtra | | | | | |
| Pricing / Plans | $ 3.99 / mo. | $ 5.56 / mo. | $ 7.99 / mo. | $ 8.99 / mo. | $ 7.99 / mo. |
| Company | | | | | |
| --- | --- | --- | --- | --- | --- |
| Disk Space | Unlimited | Unlimited | 50 GB | Unlimited | Unlimited |
| Bandwidth | Unlimited | Unlimited | Unlimited | Unlimited | Unlimited |
| Databases | Unlimited | Unlimited | 25 | 10 | 5 |
| Emil Accounts | Unlimited | Unlimited | 5 | Unlimited | 25 |
| Multiple Sitebuilder | | | | | |
| Multiple PHP Version | | | | | |
| Free Migration | | | | | |
| Free Backup | Daily | Weekly | | | |
| Free SEO Tools | | | | | |
| Free cPanel Xtra | | | | | |
| Pricing / Plans | $ 3.99 / mo. | $ 5.56 / mo. | $ 7.99 / mo. | $ 8.99 / mo. | $ 7.99 / mo. |
Frequently Asked Questions (FAQ)
We have some great clients Who love us
There were no arguments supplied for this shortcode